Youtube videos are available for free to watch online, but if you want to downloaded them on your Mac and want to see the video or mp3 song offline without any advertisement then you need an efficient YouTube video and mp3 downloader for Mac offline.
There are many websites to stream and watch videos, but YouTube is undoubtedly the most renowned one. With uprising technology, anyone can make a YouTube channel and upload their own content.
YouTube was always free but while watching content we have to go through advertisements. Although YouTube launches the premium ad free YouTube Red subscription, in many countries that is still not available or many people also does not want to spend money on it.
Nowadays there are a lot of websites and software available just to download videos from YouTube. The main reason to download content is you can watch it without an internet connection whenever you want and also there will be no ads at all.
YouTube Video and Mp3 Downloader for Mac
Airy YouTube Downloader
Airy YouTube Downloader is one of those YouTube video downloader software on the market which is by far the best and there are many reasons behind it. You can use to for windows and Mac OS.
Video and Mp3 Downloader for Mac: If you are a MAC user you can download Airy  Downloader software and it can also be integrated with various browsers.
Log in to your account on YouTube in your browser and authenticate your G mail account when prompted in the software itself. That's all, now you are ready to download videos.
Airy YouTube Downloader Features
Airy YouTube Downloader is by far the easiest software to work with when it comes to downloading content.
It can download a video in various resolution and format, depending on your needs.
You can also download the audio file from a video with this software. This feature is really handy for those who listen to songs from an offline music player.
While a video is being downloaded you can also pause and resume later.
You can also download a full playlist or all the videos from a YouTube channel.
Airy YouTube Downloader has cross-platform support, so you can use it in both MAC OS and Windows.
How Airy YouTube Downloader Works
Once you install the software on your MAC and launch, it will welcome you with some features mentioned earlier. Just continue and it will ask you to log in through your G mail account.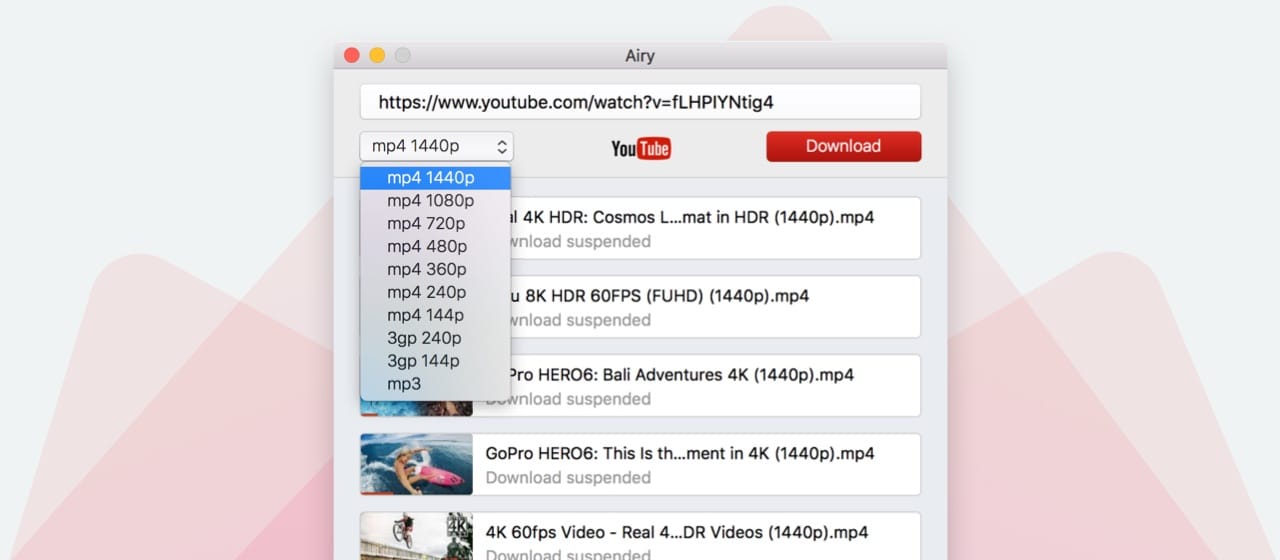 In case you do not want to use your Gmail account, you can still use Airy YouTube and mp3 Downloader manually. In that case, you will need to copy paste video URLs to this software from your browser.
After that, a drop down menu will appear with the resolution and format option. Select the one serving your need and simply press download. There are two formats available, mp4 and 3gp to choose from.
That is all you need to do, as now the software you automatically download the change format if needed for you. This whole process will take more or less 2-3 minutes.
You can also download audio from any YouTube content. In the drop down menu mentioned above select the last option 'mp3' and the rest of the process will be similar. Although while downloading mp3 you will not be able to change the bitrate, it is constant to 256 kbps.
If you are using it as a plug into your browser, a simple click on the icon while playing a YouTube video will automatically fetch the download link for you, making the process simpler.
Cost
The software has a free variant and a pro one. Without the pro version, you will not be able to download more than two videos at once and downloading any playlist option will also be disabled.
For the pro variant and personal use, Airy YouTube and Mp3 Downloader for Mac will cost $19.95. For the family plan, it will be $39.95 and business plan will cost $29.95.
You can also add lifetime upgrades guarantee for $9.95 and urgent support plan for $15.00/ year.
Although the free variant will get the job done for most of the user.
---
Conclusion
By now you already understood how easy and user friendly Airy YouTube Downloader is. The software is very lightweight and also has cross platform support. If you are looking for a YouTube audio or video downloader for your MAC, look no further.
Airy YouTube video and Mp3 downloader for Mac is the best choice.  Go for it!