What is QUALCOMM Snapdragon Processor? Where is it used? Check out all the possible factors, news, and history –complete information below: The Snapdragon is a chipset or a processor that is developed by QUALCOMM Company. It is a suite of system-on-chip (SoC) semiconductor products for mobile devices which was released first time in November 2007.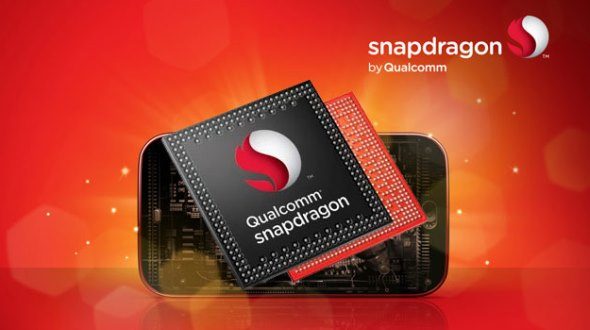 SNAPDRAGON QUALCOMM PROCESSOR HISTORY: The first Snapdragon processor to be made available to consumer device manufacturers was the QSD8250, which was launched in November 2007. It included the first 1.0 GHz processor for mobile devices. Qualcomm introduced its "Krait" microprocessor architecture in the 2nd generation of Snapdragon SoCs in year 2011, allowing each CPU core to adjust its speed based on the device's needs. At the 2013 Consumer Electronics event, Qualcomm launched the first of the Snapdragon 800 series and renamed earlier models as the 200, 400 and 600 series. Several latest iterations have been programmed since, such as the Snapdragon 805, 810, 615 and 410. Qualcomm re-branded its modem products under the Snapdragon name in December 2014.
The most important component on your phone is the Processor. Mostly you have heard the term that the smartphone comes with this or that processor. So when it comes to the mobile processors, then the mobile products (mostly) come with either Snapdragon Processors or Mediatek Processors.
You have also heard about Intel and AMD Processor, but these processors are used mostly in laptop or desktop devices. However, intel atom processor is using in some smartphones but the demand of Snapdragon and Mediatek processors are more preferable.
COMPETITORS: As you know very well that "Intel" competitor is "AMD."So, snapdragon isn't alone in the market. As I have clearly mentioned in the article that, if you are going to buy a smartphone, then you will get a snapdragon processor or Mediatk processor in it. So Mediatek is the biggest competitor of Snapdragon in mobile products.
Snapdragon Processor: The Power of Your Smartphone Features
The Snapdragon central processing unit (CPU) uses the ARM RISC instruction set, and a single SoC may include multiple CPU cores.
It comes with graphics processing unit (GPU), which provides high-quality graphics and superior gaming experiences.
Features a wireless modem and other software.
Hardware to support a smartphone's global positioning system (GPS).
Camera, gesture recognition and video.
Latest technology increases the battery life.
Offers faster performance, lower power consumption.
You can also experience the 4K Ultra HD videos.
Snapdragon semiconductors are embedded in some Google Android and Windows Phone devices.
They are also used for netbooks, in cars, wearable devices and other devices.
According to Qualcomm official site:
At the heart of today's most advanced devices there's a Qualcomm® Snapdragon™ processor supporting a world of next-generation experiences. Each tier of Snapdragon processors is designed to give mobile users a perfect balance of power and efficiency. The result is a broad spectrum of mobile technology that is innovative enough to carry the name Snapdragon.
Up to date, there are 4 main series in the Snapdragons, which is: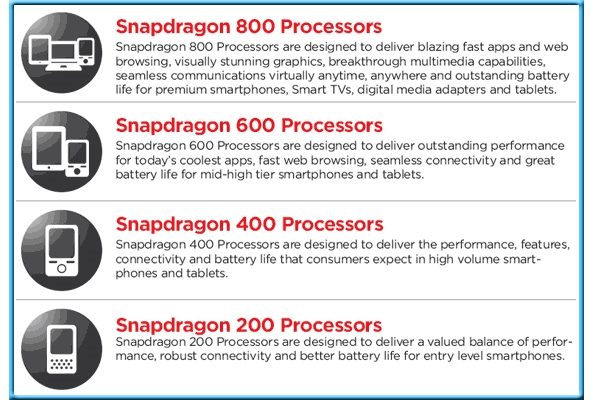 200 series: For entry level devices. The latest release is the 212 clock speed Up to 1.3 GHz quad-core CPU coupled with Adreno 304 GPU.
400 series: For mid-range devices. The latest release is the 430, clock speed up to 1.2 GHz octa-core CPU 64-bit coupled with Adreno 505 GPU.
600 series: For upper mid-range devices. The latest release is the Snapdragon 620, clock speed up to 1.8 GHz octa-core CPU 64-bit coupled with Adreno 510 GPU.
800 series: is designed to enable premium tier mobile user experiences for flagship devices.The latest release is…..
Snapdragon 808 is the first hexa-core (4+2) system on chip, clock speed Up to 2 GHz dual-core ARM® Cortex™ A57, quad-core Cortex A53 CPU810. It comes with an Adreno 418 GPU.
Snapdragon 810 is an Octa-Core Processor, clock speed Up to 2 GHz quad-core ARM® Cortex™ A57, quad-core A53 CPU. It comes with an Adreno 430 GPU.
Snapdragon 820 is a Quad-Core processor and features new 64 bit architecture called Kryo, which can be clocked at up to 2.2 GHz. It comes with an Adreno 530 GPU.
For more information on latest gadgets and technologies, keep visiting gadgetsloud.com blog and don't forget to share Qualcomm Snapdragon Processor: The Power of Your Smartphone post on social sites.