The "Mobile Network Not Available" Error is a common issue which appears in many smartphones like Samsung, Lenovo. When the error comes, you can't make or receive any call.
Actually, it is not a problem of your handset. The error comes due to service disruption or the lack of Signal within your area.  When any disruptions occur (while roaming) then sometime at that moment, the handset doesn't catch the proper signal and generate a message "Mobile Network Not Available."
So how can we fix the Mobile Network Not Available error in your smartphone?
Here I find the simplest way to fix this error. You don't need to visit any service center or to call service provider. If you have received this error message on your screen, just follow the given steps and fix the Mobile Network Not Available error in few seconds!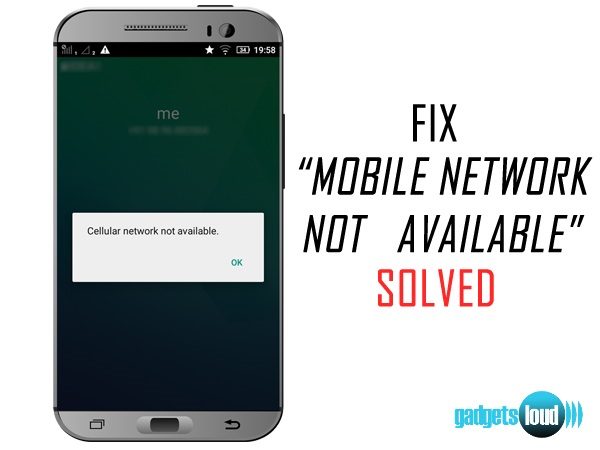 How to Fix Mobile Network Not Available Error in Your Smartphone?
Solution 1
This is the first and very simplest method to fix this problem. Many people around the world use this trick to solve Mobile Network Not Available issue.
Power off your Smartphone.
Remove the Battery.
Remove the SIM Card
Wait for 1 or 2 minutes.
Re-insert the SIM Card and Battery.
And, Restart the Smartphone.
If you still receive the same Error on your device, then follow the Solution 2.
Solution 2
In many cases, Solution 1 doesn't work. So here is another method that can fix this problem in few seconds.
Go to Phone Settings.
Select Wireless and Network. or
Select Mobile Network. (DIRECT)
TapNetwork operators and Select automatically.
That's it!
So these are the 2 simplest solutions to fix mobile network not available error. As is said earlier, this is a common error and working for many users but not working for all users because there are many factors that are related to this issue.
I have solved this issue in Lenovo, Gionee, Intex, Motorola, HTC android smartphones. Hope the same will work for you.
Well, if the above solution worked for you then don't forget to share the solution for Mobile Network Not Available Error on social sites.