Hello guys, welcome to gadgetsloud.com blog. Today we are going to review Apple's new product named iPad Pro. So how's the iPad pro? Can it replace your day to day laptop? Check out everything about in the iPad Pro review below: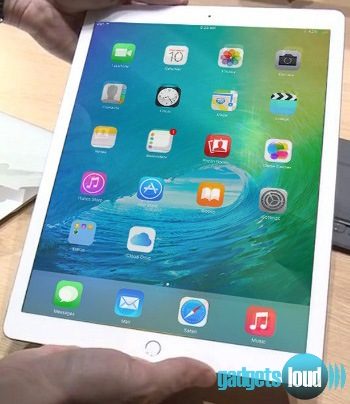 Apple iPad Pro Review
At the first glance, you might think the most notable thing about Apple's new iPad Pro is its giant size or its gorgeous high-resolution display.
But, the more interesting thing about the new iPad pro is its price! Because when you consider the price of it, the base model starts at $799 for a Wi-Fi-only model with 32GB of storage, and tops off at $1,079 for a 128GB model with both Wi-Fi and cellular connectivity.
iPad Pro review – fit for work?
Display and Size:
Apple iPad Pro has 12.9-inch diagonal display, larger than any iPad before it. It weighs about a pound and a half is also on a heavy side for an iPad. But as with almost everything in the tech gadgetry, it is really a matter of relativity.
Is 12.9-inch diagonal display big? Sure, for a tablet. But that's about the same size in various Microsoft's new surface 4 and it is still smaller than 13 inch Macbook pro and later than the Macbook Air.
The iPad pro has a super high resolution (2732 x 2048) display….. so photos, videos, even text looking seemingly good on it.
Processor Performance:
It has Apple's newest 64-bit chip architecture –the A9X chip, which Apple claims offers double the CPU and double the graphic performance of the chip in iPad Air 2. A9x is the Apple's most powerful processor yet.
From Office 365 apps to graphics intensive gaming applications, the ipad pro handles them all with tremendous ease.
Software / OS
It is without a doubt the most powerful iPad ever – the specs are great. In fact, there are a lot of things about that make it feels like a computer.
It took 6 generations to do it, but Apple has finally given the iPad a multiscreen experience with iOS 9. You can multitask with split screen, means you can work on two applications side by side in their full size.
Camera:
Similar to the Apple iPad Air 2 and iPad mini 4, the 8MP backend camera on the iPad Pro does a decent job when it comes to images in daylight. However, photos shot indoors in the artificial light and low-light look slightly grainy. You can record 1080p video using 8MP camera.
Elsewhere, The 1.2MP front camera is mediocre for selfies, but does fare well as far as FaceTime video chats are concerned.
Battery Backup:
Next on iPad Pro review is the battery test. Apple claims 10 hours of battery life. In my test, on the day we record a video, captured some photos, did chat, used the internet (using Wi-Fi) and watched some videos. So here we got, the Apple iPad pro worked continuously till 8 hours – a full work day without charging (not bad).
iPad Pro Review: Final Verdict
How's the iPad pro?
iPad pro is a powerful and stunning tablet than earlier tablets. It is the priciest tablet from Apple so far. Its specifications from hardware to software are great. But its purpose was to replace your laptop completely. Add a Smart Keyboard and you have a laptop alternative.So……
Can it replace your day to day laptop?
Hmmm…..it is difficult to say! If your daily working activity is normal, means you use your 14/15 inch heavy laptop to chat, to watch videos, to store normal data, to make presentations, to righting articles or to surf the internet then YES, Apple iPad pro can replace your day to day laptop.
But if you are a professional (designer, programmer, scientist, video editor) who really need a high-end powerful and fast device…. then No, iPad pro can't replace your day to day laptop.
So this was the iPad Pro review. What do you say? Please share your thoughts in comment section.